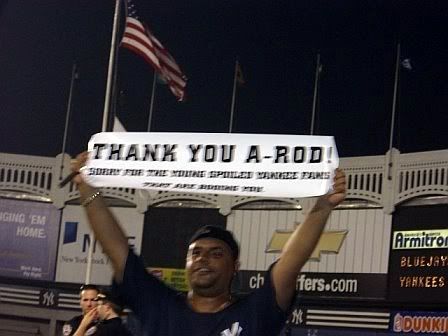 Tonight we are finally back home for a 10 game stance. Even thought we took both series on the road trip I still feel like the Yankees are not quite where the team needs to be to get on a win streak….maybe I am still bruised from Tampa and Boston?? Or could it be that not used to Toronto being a good?? Possibly it could be that Blue Jays and Red Sox have had the easiest schedule so far according to MLB stats from ESPN.
I hope I am proven totally wrong…..but my curiosity is who will be received with more booing Arod or Tex?? I am going to go with Tex as he is struggling and yes Arod took roids years back but he does consistently put up monster #'s in the regular season. And for some reason I think that the fans have finally just accepted Arod and its about time everyone did.
Maybe I should thank Selena Roberts cause I think the book might have been just enough for fans to start to feel bad for the guy!! We all know when it rains it pours and its about time Arod gets to put the umbrella away. Also his first pitch homering it was surreal and that kinda stuff happens for a reason I believe is bigger than just being an elite athlete!!
I hope we win 10 in a row!!! Go Yanks!!